From the Desk of the Founder
Hello Everyone,
This month I would like to go over what I see as the trends that are coming through now. Larger master showers and many times no master tub is one. We seem to be doing a lot more brick and stone homes and less Hardi. We are doing more family rooms and theater rooms and less dining rooms.
Something that I have seen which is continuing for the past couple years is the in-law suites separate from the main home. The older customers are preparing for care givers so they can stay in their home or the children can move in to take care of them. The younger are preparing to help their parents if they are not already. Things to think about when designing theses are shared laundry room, personal porch, and separate parking if they still drive. ? small kitchens and/or shared access.
We continue to strive to make the process easier for our customers in a challenging time with energy efficiency, drainage issues, some shortages in trades, rising cost and permit delays. The good news is that our customers at all times knows what is going on in their home and who is doing the work and where their money is going at all times.
Set in southeast Texas, not far from the shores of the Gulf of Mexico, the Houston area has something for everyone. Here, the winter temps are mild, the sports fans are wild, and the city at the center of it all is alive with activity. Over 145 languages are spoken in Houston, and this cultural diversity inspires a culinary, art, and entertainment scene throughout the greater Houston area that's one of a kind. Close to your new home in Houston, you'll find over 11,000 restaurants in the Houston Metro area, along with bustling shopping centers, popular music and performing arts venues, and nearly 200 golf courses within a 50-mile radius of downtown. And when it comes to sports, you'll have your pick of pro, college, or high school teams to cheer on.
The Houston, TX area is home to a variety of industries, most prominently health care, manufacturing, oil and gas, and tech---and enjoys an overall cost of living that's lower than most metro areas in the U.S., which means your paycheck will stretch quite a bit further when you consider a new home in Houston.
Ready to make the move to the Houston, Texas area?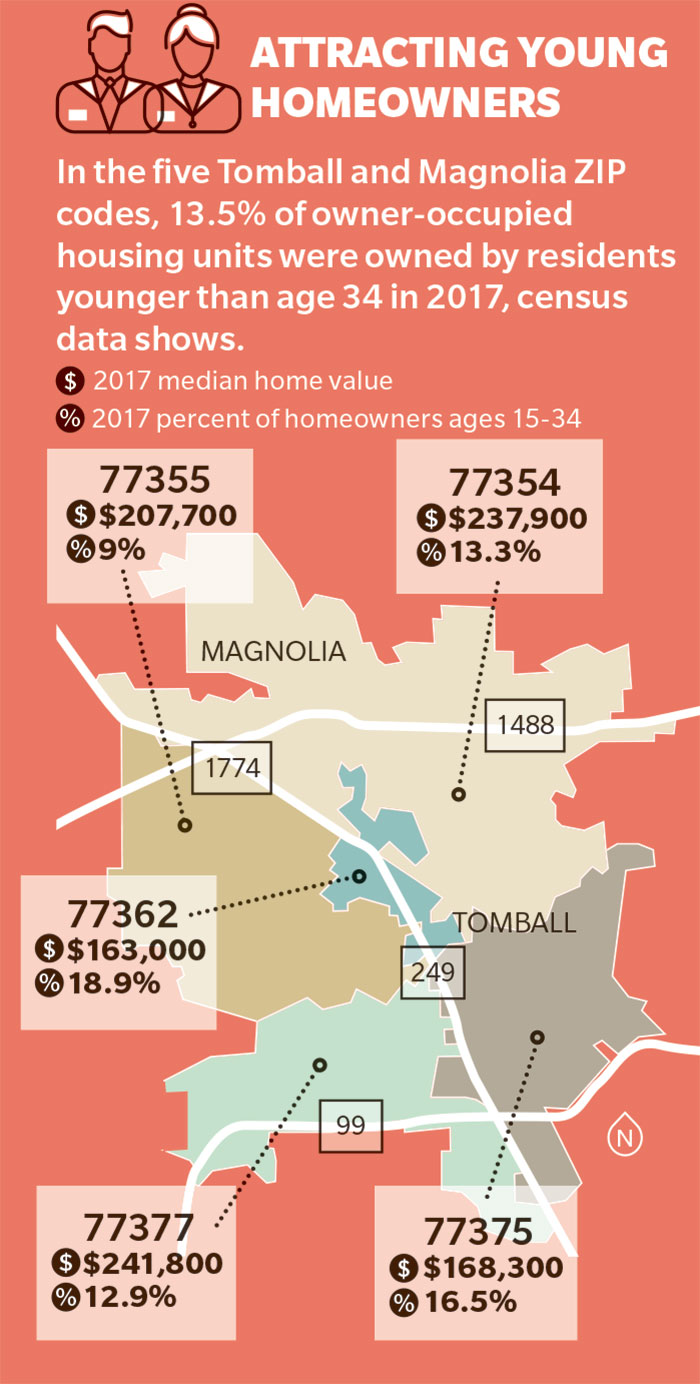 Source: U.S. Census Bureau/Community Impact Newspaper
Lower Home Prices Debut
Construction is ongoing for multiple communities in Tomball and Magnolia, featuring home prices below $250,000.
Williams Trace broke ground in 2018 with home prices starting in the $170,000s, according to builder LGI Homes.
"Most of our buyers are first-time homebuyers. We see a good number of young families and couples," LGI Homes Project Manager Clint Williams said. "We provide an affordable monthly payment, so young homeowners can fulfill their dream of owning a home rather than renting an apartment."
Likewise, Century Communities, a builder within Mostyn Springs in Magnolia, starts home prices in the $180,000s, Houston Marketing Manager Lauren Pence said. Build-out is slated for summer 2021.
"Mostyn Springs is attract to first-time homebuyers that desire the lifestyle and convenience of The Woodlands but are unable or unwilling to pay the premium to live there," Century Communities Division President Chris Chew said in a statement.
Additionally, Tomball Heights plans to break ground in July to help meet the need for affordable starter homes, MHW Marketing Director Jessica Stark said. Home prices are slated to range from $190,000 to $220,000.
Source: Community Impact Newspaper/Tomball Magnolia Edition
Red Light Camera Ban Slated to Affect Tomball, Magnolia City Budgets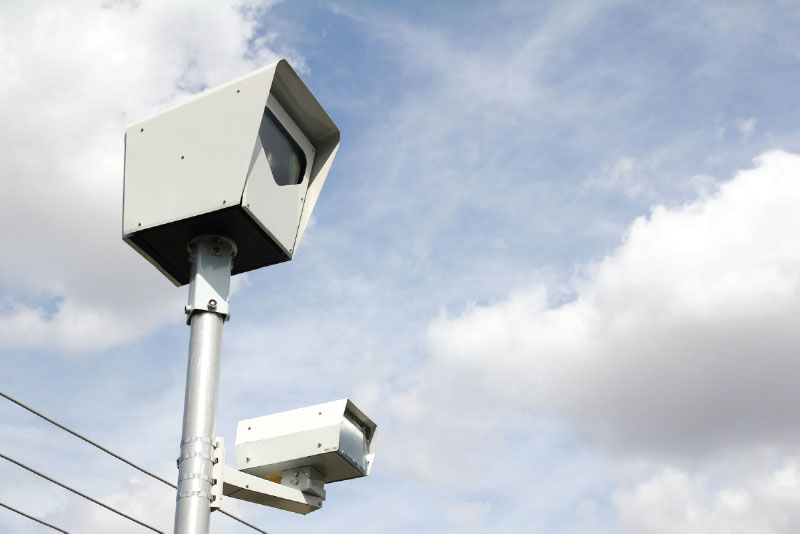 Red-light cameras were banned across Texas after Gov. Greg Abbott signed House Bill 1631 into law. (Community Impact Staff)
By Kara McIntyre | 9:51 am July 3, 2019 CDT
Red-light cameras are being shut down across Texas following Gov. Greg Abbott's signing of House Bill 1631 on June 1—and cities across the state, such as Tomball and Magnolia, are also seeing hundreds of thousands of dollars in budget losses by the passage of HB 1631, city officials said. HB 1631 prohibits the use of photographic traffic signal enforcement systems, the bill reads.
Previously, traffic violations by red-light cameras warranted a civic penalty of up to $75, according to the Texas Transportation Code. The Texas Department of Motor Vehicles and the county assessor-collector were allowed to refuse registrations or registration renewals for vehicle owners who were delinquent in their payments.
An amendment to this new law prevents state and county officials from refusing these vehicle registrations. HB 1631 also allows cities to continue operating their cameras until contracts with camera providers expire, but some city officials have decided to pull them immediately.
Cities using red-light cameras contributed half of the revenue from red-light camera violations to the state's designated trauma facility and emergency medical services account, and the remaining portion could be used by the city for traffic, pedestrian and public safety; intersection improvements; and traffic enforcement, according to the Texas Transportation Code.
An analysis of HB 1631 by the House Research Organization shows a decrease of $28.3 million from the state's designated trauma facility and EMS account in fiscal year 2020-21. The HRO is an independent department of the Texas House of Representatives that analyzes the effects of legislation.
Tomball Effects
The city of Tomball installed three red-light cameras in 2008: two at the eastbound and westbound lanes of FM 2920 and Business 249—which were turned off June 2—and a third at the northbound lane of Zion Road and Hwy. 249, which was turned off when construction of the Hwy. 249 tollroad extension to Montgomery County began in 2017, City Manager Rob Hauck said.
"That revenue source is gone. That's a reality we're faced with," Hauck said. "The good news is we didn't put any of that money into our operating budget, so our normal operational services will not be affected by the end of the red-light cameras."
About 12,000 citations were issued per year while the cameras were in use, Hauck said, but most of them came from drivers outside of Tomball ZIP codes.
"Regardless of where anybody is on this issue, it would seem to me that if people simply stopped at red lights, this would be a nonissue. I'm hopeful that we don't see a negative behavior change or that this makes things less safe for us and for communities around Texas," he said.
These citations generated about $250,000 in revenue annually for the city of Tomball, which went toward traffic education, traffic enforcement and traffic engineering, Hauck said. This included funds to implement flashing pedestrian crosswalks, school zone flashers, sidewalks, DWI police enforcement details during holidays and additional police equipment, he said.
"I'm sad that we won't have these funds to do some of what I think is really good work that we've been able to do in Tomball, utilizing these monies the way they were intended to be used," Hauck said.
Magnolia effects
The city of Magnolia's lone red-light camera, located at the intersection of FM 1774 and FM 1488, was installed in 2010 and turned off June 1, City Administrator Paul Mendes said.
The city issued 11,435 red light camera citations in 2018, with 3,888 citations issued in 2019 before the cutoff date June 1, according to Magnolia Police Department information.
"That camera cut down tremendously on accidents at the intersection on [FM] 1774 and [FM] 1488," Mendes said. "It's one of our busiest intersections, so hopefully people will still be more cautious even though the camera is gone."
The city's red-light camera fund was projected to total $385,719 in net revenue for fiscal year 2017-18, according to the city's FY 2018-19 budget. This fund single-handedly covered the cost of three traffic safety officers, their police vehicles, and fuel and maintenance for the vehicles, Mendes said, as well as the operational costs of the camera itself.
The future of the safety officer positions is still unclear at this time, Mendes said.
"A small city is very much like having a family," he said. "When one department is impacted, the rest of us feel that impact too. We will determine what needs to be done going forward, but we need those officers."