Note from the Founder
Hello everyone. It is hot in Texas. We have all been through a lot in the past year with the flooding and now the heat and humidity.
We do have some good news this year. One is the lumber prices are finally going down a little. We are hoping they continue to go down throughout the year. It has been a standard for years that in the fall and winter the prices drop a little on it due to the building slow down up north. The other good things is a lot of the contractors that had more than enough work because of the flooding are now not taking weeks to be able to start a new job and pricing for trades has leveled down a little.
While interest rates have gone up a quarter of a percent we are all hoping and thinking they should not go up much more till after the first of the year.
A question we get asked a lot in the Houston area is "When is the best time of year to build in the Houston area?" We used to know the answer to that. In all honesty after the last 2 years of flooding, a lot of rain year round and the snow we got 2 times last year there really is know better time. The most important thing is to start and get your home dried in as fast as possible. This way workers can always work on the inside and weather permitting do the outside work.
Something that is still a common building practices of our customers is, open cell spray foam insulation in side walls, interior walls of media rooms and master bedrooms. It is also sprayed on the roof rafters in the attic. This leaves you attic temperature 10 to 15 degrees above what the bottom floor is set for. Also Pecs water systems are very common. Porches are either green board Sheetrock, Hardi backer (also used in wet areas if not using green board). A lot of customers are putting cedar on roof treatments. Cedar went sky high for awhile when lumber prices went up. They have gone down a little but not as much as pine.
Please remember to let us know if you are interested in attending one of our seminars. Please remember the best thing if you are planning to start building in the next 6 months to a year is to set up a free one on one appointment to go over how our program works, qualifications, time frames any other questions you may have. The number to call for the Houston area is (281) 356-9050.
Thank you!
Sheila Marler,
Founder Owner Builder Network 1997
---
12 Must-Haves for Aging in Place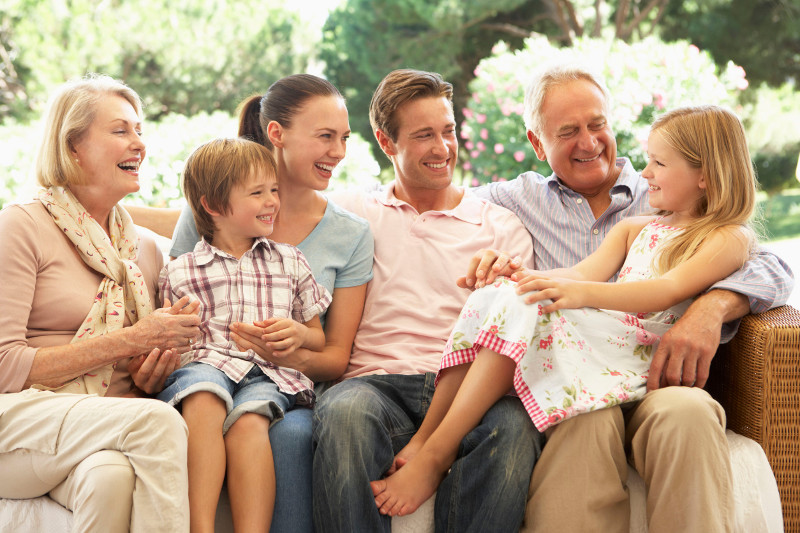 Design a home that will continue to be accessible, safe and stylish as the years go by. By the time you finish reading this article, you'll be a few minutes older. A relatively new term in the design world is "aging in place." And it's exactly that growing older in your own home comfortably and safely. Here are 12 essentials of universal design that you can include in your house to help keep it accessible, safe and stylish for your life ahead.
Curbless showers. Whether you'll need a walker or a wheelchair to get around, or if your condition simply limits comfortable mobility, a curbless shower makes transitioning in and out of the shower easy and safe. Before you proceed, you'll want to hire a professional contractor who understands the principles of proper slope on an otherwise flat bathroom floor. You'll need to ensure that proper waterproofing is implemented under the tiles and make provisions to allow for the drain within your level floor.
Bathroom benches. You don't have to be beyond retirement to appreciate a bench in your washroom, whether in your shower or at your sink. It permits you to go through your typical routine safely and comfortably. There are many ways to include such a fixture without making it seem as though it's intended to address a disability. Whether you choose a wall-hung bench, the same principles apply in a wet environment: proper waterproofing and using moisture-resistant materials like teak, cedar or plastic.
Handheld showers. Another important thing to incorporate close to your shower bench is a handheld shower. With a proper shower diverter, you can easily redirect the water flow from the shower hear to a handheld shower. This will come in handy if you need to sit on your bench while showering.
Grab bars. Designers and manufacturers have embraced the idea of aging in place, and today there is a plethora of universally accessible fixtures that are sleek and clean, and that suggest a sense of style rather than scream about their function. The appearance of your grab bars may be important to you if you want to incorporate them in your renovation but aren't the stage where you necessarily need them.

Safety tip: Ensure that there is proper plywood blocking in the wall before installing grab bars, and don't ever hold on to towel bars or soap dishes for support.

Railings for steps. If you can't incorporate a safe and seamless transition into your shower or bathtub because of the existing condition of you house, then consider a chic railing. These can be custom-designed by any railing company.
Door levers. One of the most common conditions we face as we age is arthritis. It can be extremely painful and limit our mobility to such an extent that grasping knobs becomes impossible. Consider replacing doorknobs with levers, which require gripping action. Likewise, think about swapping out little cabinet knobs for pulls that have lots of room for you to slip your hand into.
Lever faucets. Just as with door levers, there are tons of options when it comes to lever-arm faucets. Turning the faucet on and off, along with adjusting the temperature, can be easily controlled with just one element: the lever.
Touchless faucets. This is another great option to incorporate in your home as you age. It's a cool feature to show off when guests show up too.
Pullouts. Like levers, pullouts aren't intended exclusively for the aging homeowner; they're a clever way of making access easy for everyone. Besides being convenient, pullout drawers put less strain on your back and knees.
Smart appliances. Many of today's home appliances have evolved so that they can be controlled electronically, remotely and with more functions than the average homeowner even realizes. The intention of smart appliances is to make life easier. But more important, they can make life safer by letting you know when you've left something on or open by accident.
Stair lights. Another safety element is stair lights. I recommend installing them on a sensor so that they turn on automatically whenever you approach your stairs.
Elevators. Although installing on elevator can be complicated and costly undertaking, it can allow access to multilevel home for years to come. Budget options are out there, with the price ranging from $25,000 to $80,000.
Source: Houzz
---
THE GREAT DEBATE: Showers vs. Tubs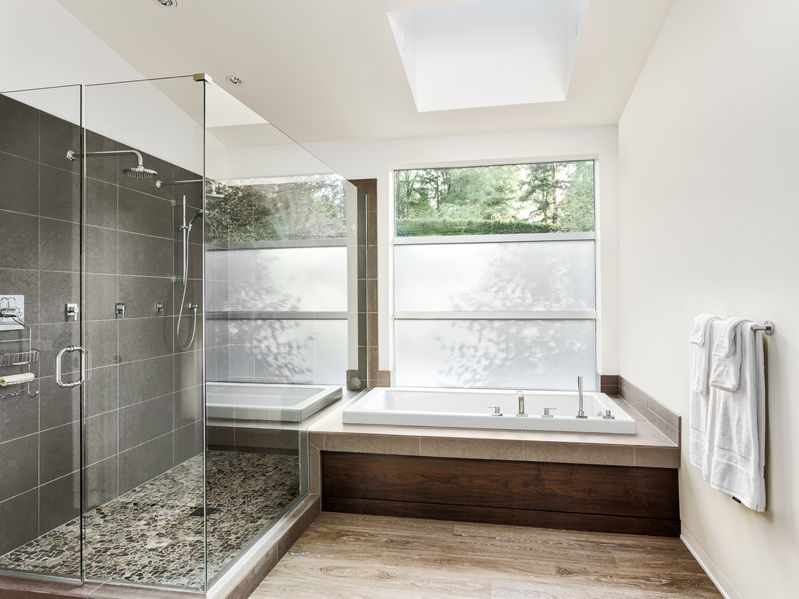 Bathrooms and kitchens are arguably the most important rooms in a home, and the design choices made in them can make or break a sale. With square footage at a premium in new homes, builders and designers are often faced with a tough choice: Do buyers prefer showers or bathtubs?
Can a shower offer the same level of luxury as a designer bathtub?
"We're not totally abandoning the luxury that comes with what once was the tub with the candles and everything," she jokes, because showers are larger and more spa-like than ever with rain heads, body sprays, benches, and more. "People are still wanting personal luxury in their bath, but now it's not necessarily in the form of a tub."
There's also a growing number of home buyers with a "less is more." "Millennials and Gen Xers are into functionality," she explains, and if they're not going to use the tub frequently, they're going to eliminate it altogether.
Not only is the speed and convenience of showers tough to beat, according to interior designer Amy Miller of Lita Dirks & Co. in Greenwood Village, Colo,. but also in certain spaces, showers just make more sense. She adds that the tub is phasing out just like the formal living room did when homeowners realized they could make better use of the space.
Even if homeowners favor a shower, sometimes a tub is a necessary evil. Having a tub somewhere in the home, typically in a secondary bathroom, is often a priority for homeowners with young children and pets. But a shower can still be the main event, evoking just as much calm and relaxation as a soak in the tub.
"The shower is winning. It would be safe to say that maybe 80% of my clients want the shower, and they're just putting the tub in because they think they have to."
Tony Crasi has a state-of-the-art whirlpool tub in his master bath. "I've used it maybe five times in 12 years," he confesses. He cautions his customers that they may not end up using their luxury bathtubs either, but that isn't slowing their requests for whirlpools, garden tubs, and more.
Homeowners are busier than ever and for some clients, stress levels are through the roof, he explains. At the end of the day, he says they want "somewhere to soak, somewhere to relax, somewhere to go hang out and hide." Whether people actually have the time to use their tub doesn't seem to be affecting the trend, according to Crasi.
"A beautiful vessel tub or soaking tub is sexy," says Marc Thee of Winter Park, Fla.-based Marc-Michaels Interior design. "It showcases either a peekaboo or full visual from the bedroom. It reads as this fantasy, wonderful, intimate moment that people enjoy whether they ever get in it or not."
At the end of the day, people want "somewhere to relax, somewhere to go hang out and hide."
While some people love to unwind with a warm bath, other designers agree with Thee that most home buyers who opt for a tub are more interested in its contribution to the overall aesthetic of the room. Bathtubs—particularly freestanding tubs—can serve as a "sculptural centerpiece to the bathroom." Says West Palm Beach, Fla.- based interior designer Gil Walsh, and lately, they "are really being given an opportunity to stand out in the form of art."
Aside from the works-of-art tubs that are currently trending, in the future Thee says he would love to see a walk-in tub that's more attractive than those on the market today so that bath-loving baby boomers don't have to compromise on style.
Source: Builders
---
HOME TRENDS: HOW CHANGING LIFESTYLES ARE ALTERING HOUSING NEEDS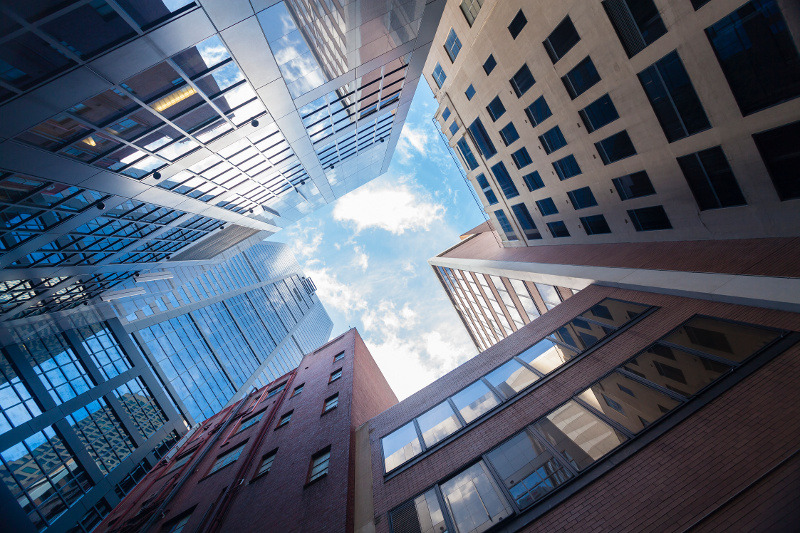 Recently across Texas and the nation, we have started to see housing needs change – not only for where people are living, but how they are living. Although we will always have blocks of single family homes in suburban America, current trends are showing that people are moving back into the city, spurring urban infill development. Multigenerational living is on the rise as well due to high housing costs, forcing adult children to live with their parents longer than they used to. A housing need that also warrants attention is special needs living, which demands expansion to include communities with more social and learning opportunities. And finally, the popularity of the tiny home has created a need for tiny home villages that come complete with village amenities.
Urban Infill
Currently in Texas, the urban infill housing trend is ever increasing. People of all ages are feeling a draw back to the city – to be downtown in the hustle and bustle of restaurants and entertainment options and to shorten their commutes. The two major age groups that typically move into downtown, however, are young professionals in the 25 to 35-year-old range or people aged 55+ who are empty nesters looking to downsize. Adults with children are still to be found in the suburbs where there are usually better school systems and lowering crime rates due to urban infill building.
Typically patio homes sell to young professionals or empty nesters, they have seen recent change in the demographics of homeowners looking to move to the inner city. More families with parents in the 35 to 55-year old range are buying homes within the Loop. Dishberger credits this change to the improved schools downtown, "Five years ago, if we had one person that has a kid buy a home, we would have been surprised. But there has been so much infill building that a lot of people have moved in, and they have started changing the schools. The parents got involved." Mike also noted that Houston is a more mature infill city, so the communities downtown have really grown and changed since they started building in '96. A major reason Houston has seen a lot of infill building is the fact that there is no zoning in Houston, which allows for speedy development. Waco is also experiencing its own urban infill surge.
Although not as large as Houston, Waco still has its own old warehouses and empty downtown lots that are prime to be revamped. Steve Sorrells, has several downtown properties' taking off in Waco, including rental lofts, condos, and a custom home development. Steve explained that the city put together an urban infill department to plan and spur development, and through that, one of the worst crime areas in the city became one of the least crime ridden areas due to local development. "Before, people wouldn't move in there, but there have been these pioneers seeing this area, who come from a background of larger towns, and they come into our smaller markets and aren't as intimidated and don't have those stigmas of the area engraved in them. People are choosing Waco as a lifestyle and a destination, as a place to return. Right now, there is a positive environment in Texas with a high quality of life and a low cost of living."
Multigenerational Living
In the U.S., multigenerational living has reached an all-time high in recent years. One of the most current census analyses by the Pew Research Center shows that a record 60.6 million people were living in a multigenerational household in 2014. Adult children are living with their parents longer than they used to or moving back in after college; and senior parents, especially single ones, are being invited to move in with their children. The biggest change in multigenerational living is that young adults are now the age group most likely to live in multigenerational households, whereas in the past, older adults were more commonly found in multigenerational households.
Builders have started to notice this trend and are working to fill the demand. The increase in need for housing that accommodates larger families with two or more generations of adults has presented new opportunities for builders to switch things up a bit, typically in custom building. Dishberger explains that he has done some mother-in-law suites, but that they tend to avoid it in spec homes. "We only really see mother-in-law suites in custom building. They sort of flop for us in spec homes, and we are not seeing a huge demand for it in the inner city," Dishberger said.
Steve Sorrells has success with multigenerational building in Waco in the custom building division. "Custom homes are where you see the in-law suites and casitas. We will do them typically for single families and at client request. We will put mother-in-law suites downstairs in a separated area of the house or build casitas that are separate from the main house, across the courtyard but attached to the garage." Having separate living spaces for each generation is very important to clients. He says that they see a lot more multigenerational living in suburban developments and that some or their clients might not have parents or adult children living with them now, but they plan for the possibility by having the space over the garage finished off or other areas set up as a space for them in the future. These spaces allow college kids the opportunity to live at home without feeling like they are.
Steve also describes these in-law suites as flex spaces that can serve different purposes over time. They are used for adult children or parents but also as home offices. In a tourist town like Waco, which now has over 2 million visitors a year, mother-in-law suites or casitas can now be used as an short-term rental that provides a source of revenue, and clients especially like when they can shut down utilities to the casita or separate living space when they aren't in use.
Special Needs Housing
Special needs housing encompasses a variety of housing needs and types for children and adults with mental and/or physical disabilities. With advances in technology, the creativeness of builders and developers, and a greater awareness and appreciation of disabilities, housing options have grown for those who have to navigate the world a little differently than the average person. A design approach addressing special needs housing that is gaining more traction is universal design. Universal design is an approach that seeks to create an environment that can be used by a wide range of individuals. The concept has been around for years, but we seem to be seeing the design idea more frequently in places like outdoor playgrounds. Some home building companies, offer universal design options to accommodate special needs, senior citizens, or handicapped people. These options can include basic wheelchair accessibility features to elevators to web based home automation.
While universal design may be a concept that people typically think to include in their homes after it is needed, more people are looking to include universal design in their homes as a way of aging- in-place. Homeowners are thinking ahead to how their homes will work for them long-term. Some simple universal design principles that families are now including in their homes include wider doors, nonslip flooring, easily accessible switches, a no stair entrance, and one-level floorplans.
Assisted living facilities, group homes, and in-home care help are all current housing options for special needs and disabled individuals who cannot live independently or who have not yet learned how to. In addition to these programs, we now have whole communities dedicated to special needs living being developed to help provide understanding and support to those living with a genetic disability. 29 Acres, a housing community for people with autism, is under development in Cross Roads, Texas. Funded through private donors, 29 Acres will house up to 60 residents in 15 homes and provide access to a transitional academy that will help young adults with autism develop skills needed to live and work independently. Founders of the project hope they can create an innovative model to provide long-term solutions for autistic children transitioning into adulthood. Let's hope we see more communities like 29 Acres in our future to help provide a safe and nurturing environment for people with similar disabilities.