Owner Builder Network®

is celebrating our 20th year of business!
Come join us for a home building informational seminar/workshop!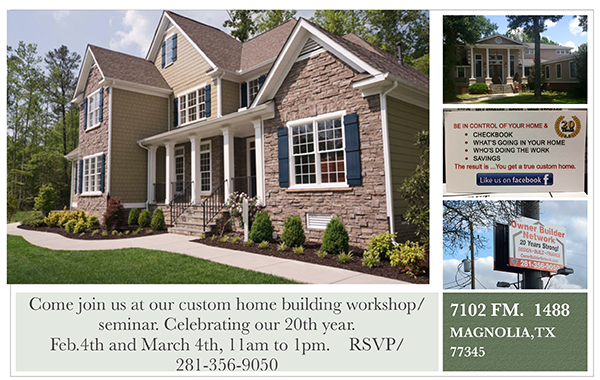 ---
9 Keys to a Healthy House
TAKE A DEEP BREATH! Building healthy, nontoxic home is not as difficult as you might think. Here's a look at nine simple, cost-effective strategies that promote wellness in interior environments.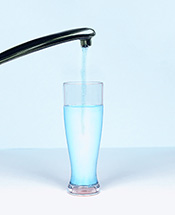 Air Filtration

A balanced ventilation system with MERV filtration provides superior comfort and air quality.
Mechanical Ventilation

An HRV or ERV delivers fresh air and exhausts stale air.
Moisture Prevention

Flashing exterior penetrations, windows, and roofs helps move water away from the home.
Low-Emitting Products

Nontoxic products like no-VOC paint keep indoor air healthier.
Vapor Mitigation

Carbon monoxide detectors alert residents to the presence of the deadly gas.
Cabinets

Formaldehyde-free cabinets keep this dangerous chemical out of the house.
Water

Whole-home water filtration reduces chemicals and heavy metals.
Countertops

Choose Greenguard-certified surfacing products.
Flooring

Hard-surface floors don't trap dirt, dust, and contaminants and are easier to clean.
Dodge Data & Analytics survey found that most consumers don't understand how their home can impact their health. Instead of bombarding potential buyers with technical jargon and health information, Head advises sales agents to fold health into conversations about green certifications and energy efficiency. Consumers are familiar with those topics, and they believe energy-efficient homes are healthier because they have fewer drafts and leaks—meaning less mold and better indoor air.
"When you break a new-home purchase decision into its pieces through conjoint analysis, a special indoor air system isn't one of the strongest drivers," Head says. "But it, along with green home certifications, strongly impacts price elasticity."
At Meritage, it took a while for the sales staff to get comfortable talking about a home's health-based benefits. Herro says sales agents tried to sell healthy homes like they sold energy efficiency and hound it wasn't effective. After all, he says, a family's long-term health can't be quantified in dollars and cents like energy-saving features can. Salespeople—and potential buyers-were intimidated by jargon like MERV ( maximum efficiency rating value) air filters and low-VOC (volatile organic compound) materials, and they pushed healthy features rather than overall quality-of-life benefits from the house as a whole. The sales team now focuses on "reminding consumers that they can and should have a better functioning home than they've had," Herro says.
---
Simple Steps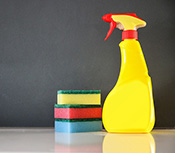 Building scientists say designing and constructing healthy homes involves a few simple principles: plentiful fresh air, nontoxic or low-toxic building materials, and moisture control. The first thing builders can do to mitigate indoor air problems is ask manufacturers what is in the products. Product certifications like Greenguard, Cradle to Cradle and the International Living Future Institute's Declare label make sorting through product options easier than it's ever been.
Flashing and airsealing is critical as well. If exterior water is finding its way into a home via leaky windows and roofs, it cannot be considered a healthy home. The contrary can be true, too: Well-sealed buildings can trap in toxic chemicals, mold, pollen, and other irritants so installing a balanced ventilation system with MERV filtration is critical for superior comfort and air quality. Make sure your HVAC contractor distributes it throughout the home to ensure that fresh air gets to important but hard-to-reach places like above beds.
To protect against deadly vapors, install carbon monoxide detectors on every floor and within 15 feet from all bedrooms and place a radon vent below the basement slab that vents through the roof.
Other considerations include whole-home water filtration and hypoallergenic, cleanable surfaces. The EPA Indoor airPLUS guidelines require hard-surface flooring in kitchens, bathrooms, and entryways because they're easier to clean. Soft surfaces trap dirt, dust, and contaminates that can trigger respiratory issues.
---
Mold: Telling Fact From Fiction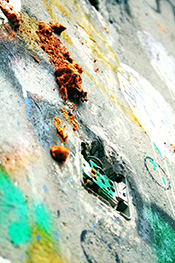 Back in 2001, a couple living just outside Austin, Texas won a suit against a subsidiary of Farmers Insurance Group for bad faith in handling what had begun as a water leak and eventually turned into black mold, making the home's occupants sick and rotting out their 22-room mansion. Two years later, Johnny Carson's sidekick, Ed McMahon, won a similar case after he and his wife got sick and his dog had to be put down due to the mold in their home. These high-profile cases—not of rundown homes in forlorn areas but of mansions in elite neighborhoods, one occupied by a beloved TV celebrity—put the unglamorous subject of mold in the spotlight.
There have been other, more recent, cases. In October 2012, Rudy Tomjanovich Jr., former Houston Rockets player and coach, and his wife were ordered by a Los Angeles County Superior Court to pay more than $2.7 million in compensatory damages and $250,000 in punitive damages to the owners of a Pacific Palisades home that the Tomjanovichs had sold them in 2007, while failing to disclose the existence of water leaks and mold in the residence during the sales transaction.
And in March 2014, the New York State Court of Appeals affirmed the dismissal of a tenant's personal injury claims against her landlord because of exposure to mold, dust, and other toxins in her apartment. But the judge's dismissal contended that the facts of the tenant's case didn't hold up.
According to the Centers of Disease Control, exposure to damp, moldy environments may or may not cause a variety of health issues, from the mild—stuffy nose and throat or skin irritation—to the serious: lung infections for those with mold allergies or compromised immune systems. The Environmental Protection Agency states in its document, "Moisture Control Guidance for Building Design, Construction and Maintenance," that many common moisture problems can be traced to poor decisions in design, construction, or maintenance. So builders are painfully aware that they risk culpability for how they manage moisture and mold in the homes they build.
But, compared with the early 2000s, we don't hear much today about mold problems in homes or builders being sued by homeowners for damages. Does that mean builders now have a firm grasp on mold issues that lessons have been learned, and the problem is solved. The answer depends on whom you ask.